Folding Memo - WhiteCoat Clipboard® - Black - Medical Spanish Edition
WhiteCoat Clipboard's full sized folding medical clipboard is perfect for students and residents alike! Its unique hinged design allows for the clipboard to be folded in half for convenient pocket storage and contains the most daily referenced medical information now in Spanish! WhiteCoat Clipboards are used by physicians, interns, residents, nurses, or any healthcare professional needing a solid writing surface and the ability to conceal documents (HIPAA compliant). This clipboard can carry up to 30 pieces of paper without creasing your documents but stays lightweigth with its sleek aluminum design. Hover over the above images to see detailed views of the medical information contained on this clipboard.
---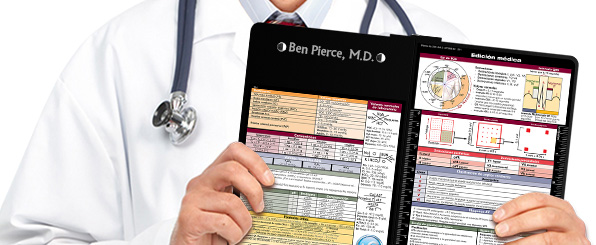 ---
Options and Accessories:
Engrave your clipboard:
Personalize your clipboard by adding an engraving in any of our 3 fonts. Engravings are lasered between the rivets on the top rear of the clipboard.

Upgrade your clipboard clip:
We offer optional clipboard clips in checkerboard texture, blacked out, and with a tag to hang your clipboard.

WhiteCoat Pen Clip:
Get a pen clip designed for your WhiteCoat Clipboard. This clip will fit above the paper clip without covering your engraving. Purchase a pen clip and get one of our pens! Click here to see full details.




---

---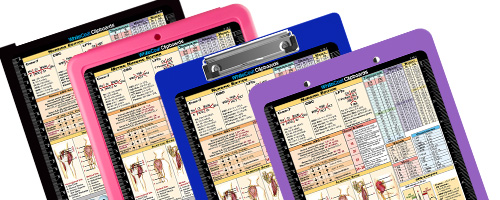 MDpocket Rewards
Earn points, redeem exciting deals and enjoy
exclusive benefits! Learn more